La Goupillère is a spacious, fully restored old farmhouse which stands in the grounds of what was once a large working farm.
The property is surrounded by arable land. There are no smelly animal facilities or commercial installations anywhere in the vicinity. This is not to say there are no animals around, of course there are but only in the nice sense.
With living accommodation of 185 square metres (2,000 square feet) and with three double bedrooms and two bathrooms, each with a proper shower cubicle and one with a bath, the property is designed to accommodate up to six people in comfort.
La Goupillère is not a gîte in the traditional meaning of the term - it is a very well appointed detached country house and, although we live nearby and are therefore on hand should you need us, we are not on-site, so you can enjoy your privacy. The property is stand-alone and there are no other guests sharing any part of it.
Please take a look through the pages of our website to get a comprehensive view of what La Goupillère has to offer you and see what we include in our prices, as our aim is to provide everything you are likely to need to make your stay enjoyable and hassle-free, with no extras to pay for. Should you have any questions or comments about our website please do contact us. This home page is intended to give you an overview and we hope you will be tempted to delve deeper into the individual pages showing the property more fully.
This area of France has much to offer. It is farming country and most of the villages and towns hold events throughout the summer. There are lots of small medieval towns that retain their charm and history, amazing many visitors that they have never heard of them e.g. Sainte-Suzanne with its walled town, ancient fortress and château, Jublains with its extensive Gallo-Roman remains and Lassay-les-Châteaux with one of the best examples of a fortified medieval château in France, complete with a working drawbridge and barbican. Le Château de la Motte Husson, Dick and Angel's place featured in Escape to the Château, is a 30 minute easy drive. This map shows all the nearest ferry ports and airports and also what is within an easy one and two hour drive. Click on it to enlarge it or click << here >> for a large downloadable PDF copy.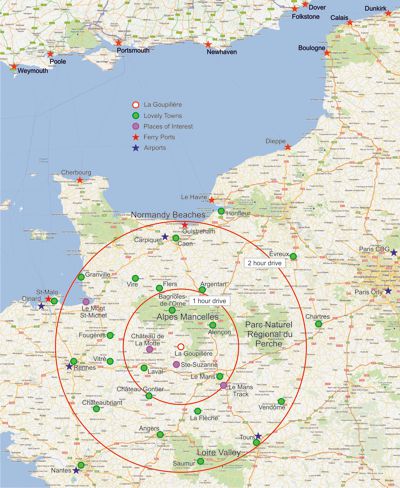 The Plantagenet city of Le Mans is an absolute must, especially so in July and August when the "Nuit des chimères" is enacted. You have dinner at one of the many wonderful, inexpensive restaurants then just as it's getting dark be prepared to experience one of the most enchanting spectacles you have ever seen. There are similar, if not quite so spectacular, events in Mayenne and Laval.
There are plenty of activities and the area is particularly noted for walking and rambling, cycling, fishing, horse riding, exploring ancient woodland or just driving through the beautiful and traffic-free countryside and forests. The Alpes Mancelles are 25 km but; although stunning, there is no skiing! There's plenty of scope for picnics and indeed these are a regular local pastime.
For swimming, there is a wonderful lake with a sandy man-made beach at Sillé-le-Guillaume, just 17 km away, another at Gué de Selle, slightly nearer and quieter and excellent public pools at Bais (7 km), Villaines-la-Juhel (11 km) and Evron (16 km). The beach at Sillé-le-Guillaume also has horse and donkey rides, boat trips, pedalos and bars and restaurants. It's great for kids and adults alike.