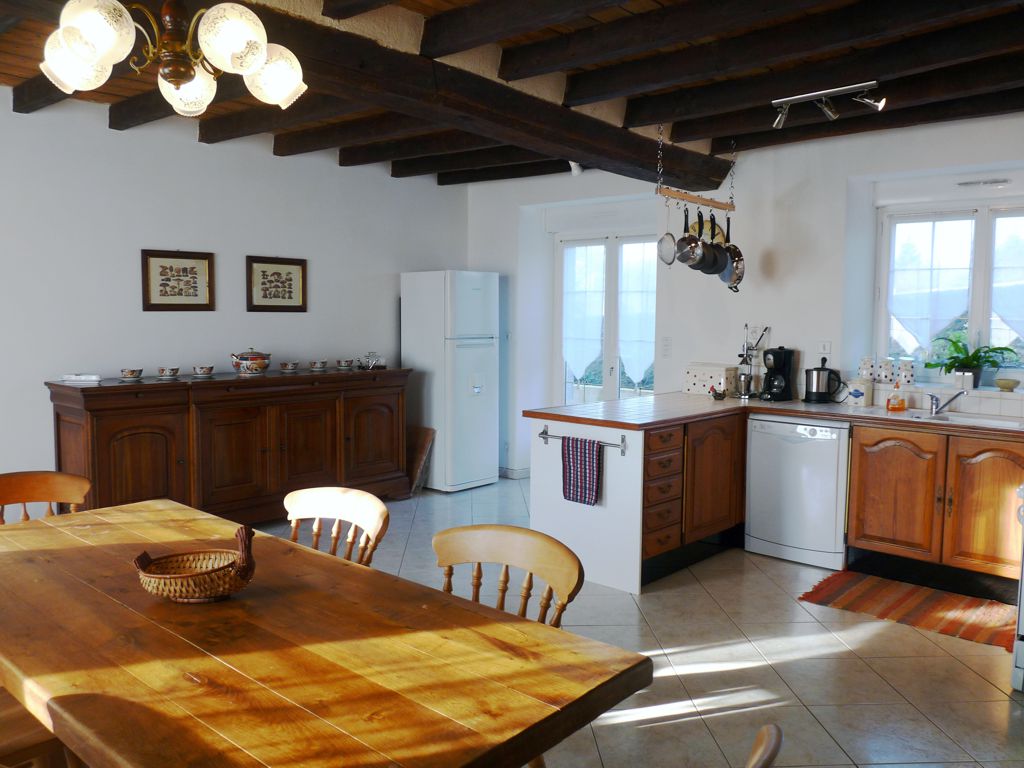 The kitchen (31 square meters) is bright and airy with doors to the front of the house and onto the patio at the rear. It is fully fitted, with a U shaped kitchen area with lots of storage space plus a huge buffet/sideboard. The equipment is all modern - electric multi-function cooker, cooker hood, dishwasher and fridge-freezer. There's also a microwave oven, food processor, slow cooker, coffee percolator, kettle and raclette cooker (the washing machine and tumble dryer are in a separate utility room which also houses the central heating boiler). See below for a full list.
The wooden ceiling is high, showing off the exposed beams and a nice feature is the old bread oven with its arched roof. Sadly it can't be used for baking bread today but it's a quaint reminder of the history of the house. The back windows and door have electric shutters. All windows and doors are double-glazed and the floor is of under-floor heated ceramic tiles.
The chunky country-style oak table comfortably seats six but could easily stretch to eight people (there are extra chairs). All kitchen utensils, pots and pans, crockery, cutlery and glasses are provided, as is everything you could possibly need to make your stay enjoyable and hassle free. We have provided for twelve people so you can have guests round - or just skip the washing up for a day!
Full list of equipment and fittings...
Electric multi-function cooker
Extractor hood with lighting
Fridge/freezer
Full-sized dishwasher
Microwave oven
Food processor
Electric kettle
Electric coffee percolator
Raclette cooker
Slow-cooker
Toaster (4 slice)
Dining table
8 chairs (4 more upstairs)
High chair on request
Large buffet/sideboard
Fitted kitchen,ample work surface

Deep sink, drainer & mixer tap
Plenty of high quality pots & pans
All crockery, cutlery, glasses & utensils
Storage jars with basics
Kilner jars of various Oxo cubes
Bread baskets & chopping boards
Washing-up & cleaning materials
Kitchen roll, dishtowels, etc
Waste bin & recycling bags
Umbrella stand (with umbrellas)
Big map of France
Bose docking station with BlueTooth
Lots of cupboard space
Coat hooks
Wine rack and various ornaments
Pictures of edible & poisonous fungi
For your safety and peace of mind there are torches, emergency lighting, a fire blanket beside the cooker and a proper powder fire extinguisher
All the basic supplies you need to start your holiday are provided - tea, coffee, sugar, flour, oil, whatever. Upon request, we can provide a child/pet gate to separate the kitchen (or the downstairs hallway) from the lounge.
You will also find a "welcome pack" consisting of a bottle of red and a bottle of white wine, lager, fresh orange juice, soft drinks, milk, bread, cheese, cold meats, eggs, tomatoes, green salad, butter, fruit, croissants and jam, etc. Most of the stuff will be in the fridge! If you would like us to source anything else for you please let us know before arrival and if there's anything you do not eat, e.g. ham, please tell us so we can substitute something else.
There's a 20L cool box and some freezer blocks you can use for outings so no need to bring your own. There's also a picnic hamper, picnic table and chairs, parasol and portable base. Just bring your own picnic!