Where are we? La Goupillère is in the north-east of the department of La Mayenne, part of the region of Pays de la Loire and just south of Normandy and east of Brittany. It is easily accessed from any of the Channel ports; for example it is around four hours drive from Calais and the Eurotunnel terminal and two hours from Caen. Dieppe is three hours. Le Mans to Paris is only an hour by TGV. For visitors from Cornwall or Devon, Plymouth to Roscoff is a popular route.
Paris Charles de Gaulle (CDG) airport is just over an hour from Le Mans, direct by TGV, where you can pick up a hire car at the station (best to pre-book). There are a number of regional airports, all about two hours drive away.
The map below shows the nearest ferry ports and airports but more importantly what is within a one hour and two hour easy drive.
Please click on the map for a large version or << click here >> for a large downloadable PDF copy.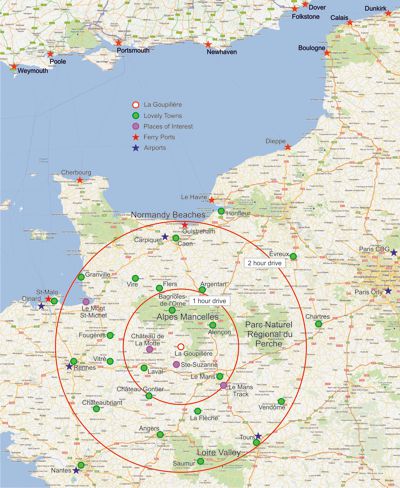 The Final Leg to La Goupillère
You will be sent comprehensive travel information and local maps four weeks prior to your arrival. If you get lost we will "talk you in" or, if necessary, come and find you from somewhere nearby that you have found!